The Maxine Barrat Story
by Kristin Baggelaar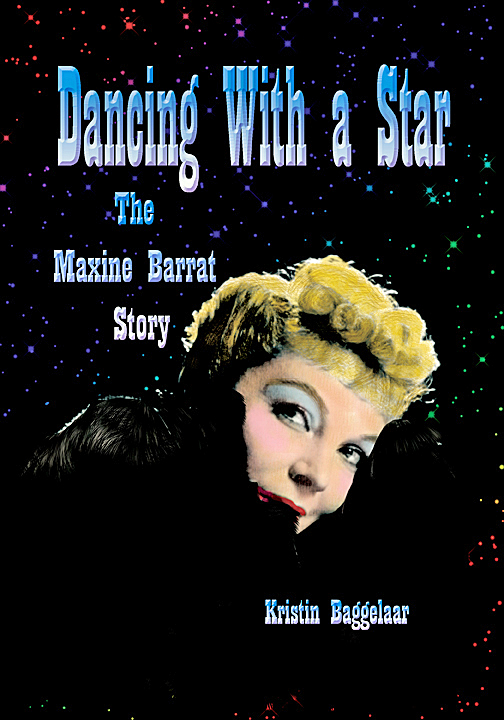 What readers are saying about the book!
.
See Pictures of Maxine Barrat at Her 100th Birthday Party in 2015
..
The story of one of the 20th century's most renowned and successful ballroom dancers, Maxine Barrat, has been, until now, a dormant archived treasure that offers an intimate account of the social, cultural, and personal history of the world-wide ballroom dance phenomenon. Once described by influential Broadway columnist Dorothy Kilgallen as "one of the dancing darlings of the early 40's," Maxine danced with both Fred Astaire and Gene Kelly, but is perhaps best known as a partner in the internationally acclaimed ballroom dance team, Loper and Barrat; but this is only the beginning of a captivating story about Maxine Barrat - and why she should be better known. Dancing With a Star: The Maxine Barrat Story was released by Midnight Marquee Press on December 17, 2012 and is available from them at www.midmar.com and at www.amazon.com.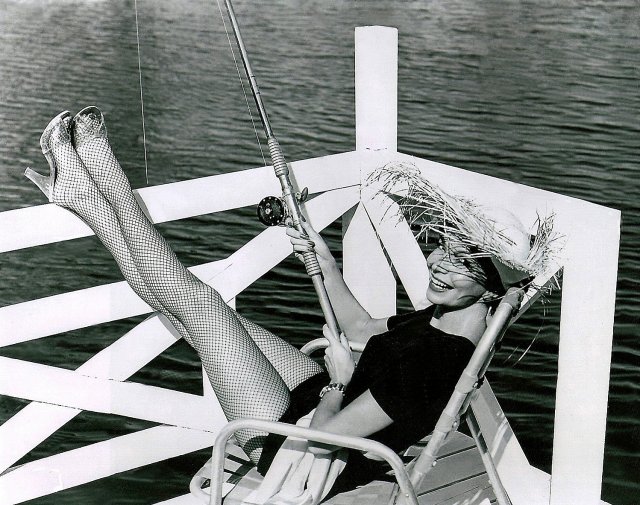 Maxine Barrat (nee Boura) began her multifaceted career at the age of sixteen with the prominent John Robert Powers modeling agency in New York City and rose to the status of one of his topflight fashion models. At only five feet four inches, she could not be a high-fashion model, but with her sophisticated look she excelled at modeling hats, bathing suits, and here, fish-net stockings. Her shapely pair of legs even rivaled those of 1940s icon Betty Grable. Maxine is shown modeling for a Hanes hosiery advertisement in this undated photograph.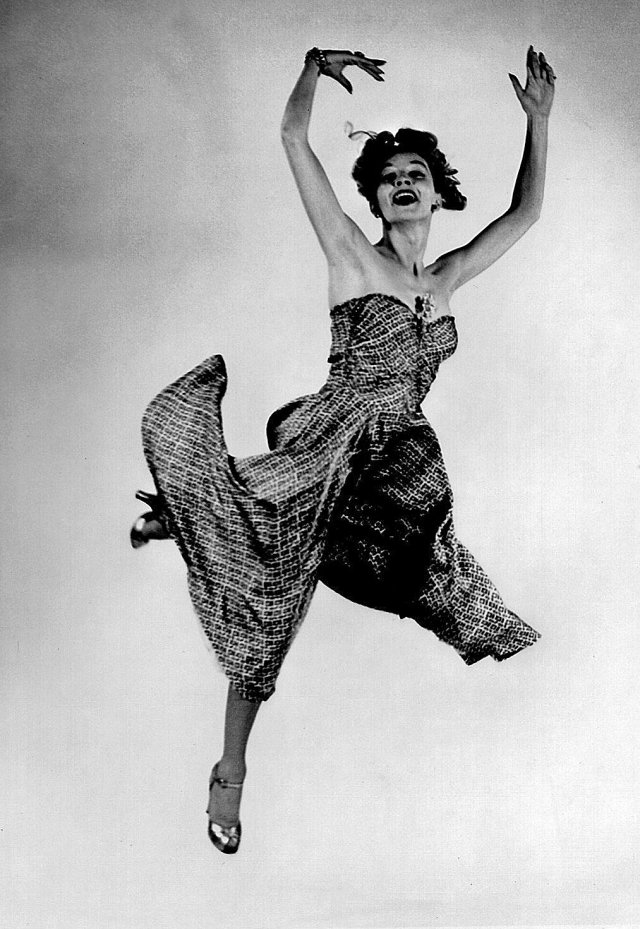 Ballet lessons were a part of Maxine's life from the time she can remember, but this naturally gifted young dancer was different from the other little girls. Maxine knew from a very early age that she was born to dance - and she was determined to overcome any and all obstacles to pursue her passion.

Maxine went to one after another of Broadway and Eighth Avenue dance studios in search of a dance partner, asking about and setting up rehearsals with potential match-ups. On the verge of giving up after over two dozen try-outs, she found her ideal partner, Don Loper. There was instant magic.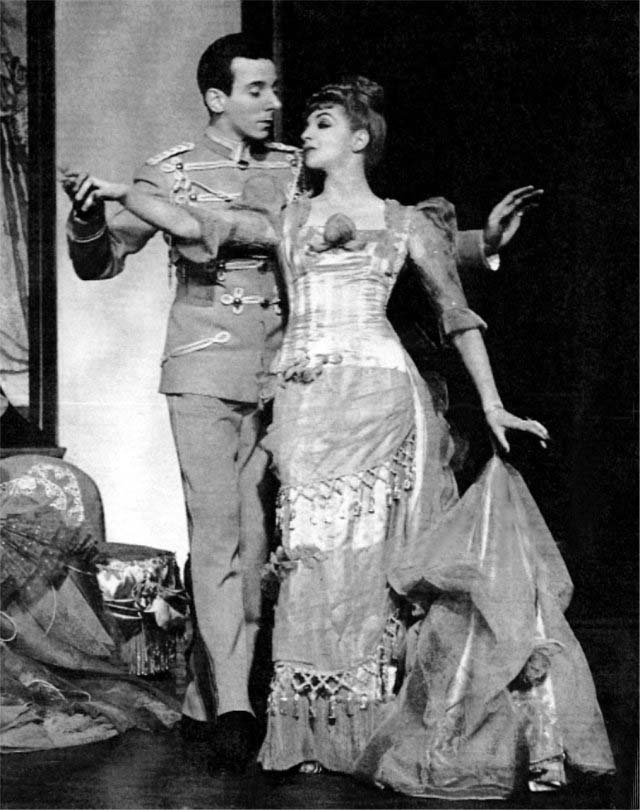 In 1938, Loper & Barrat got their first big break when the producers of the Broadway- bound show, One For The Money, auditioned unknowns for parts. They won spots in an ensemble cast of twelve members that included Gene Kelly in only his second Broadway show; Maxine danced with Kelly in one of the numbers. One For The Money opened at the Booth Theatre on February 4, 1939 and closed May 27, 1939 after a total of 132 performances.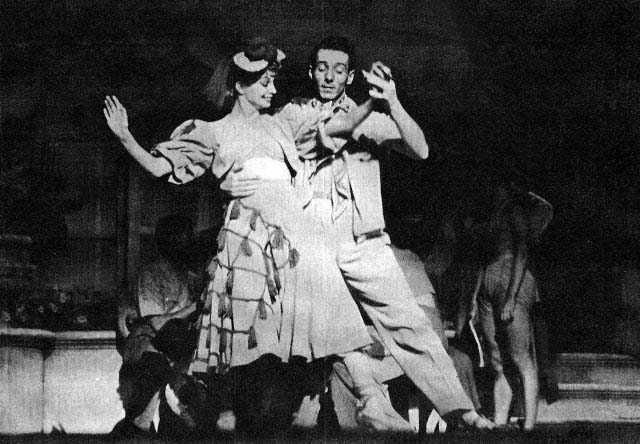 After their successful debut in One For the Money, Loper & Barrat were offered parts in Very Warm For May, a musical comedy by Jerome Kern and Oscar Hammerstein II, with lavish costume and scenic designs by Vincente Minnelli. Brooklyn Daily Eagle reviewer Arthur Pollack praised, "In the second act Maxine Barrat and Don Loper and Kate Friedlich have dances to do and they are something." Very Warm For May opened at the Alvin Theatre on November 17, 1939 and closed on January 6, 1940.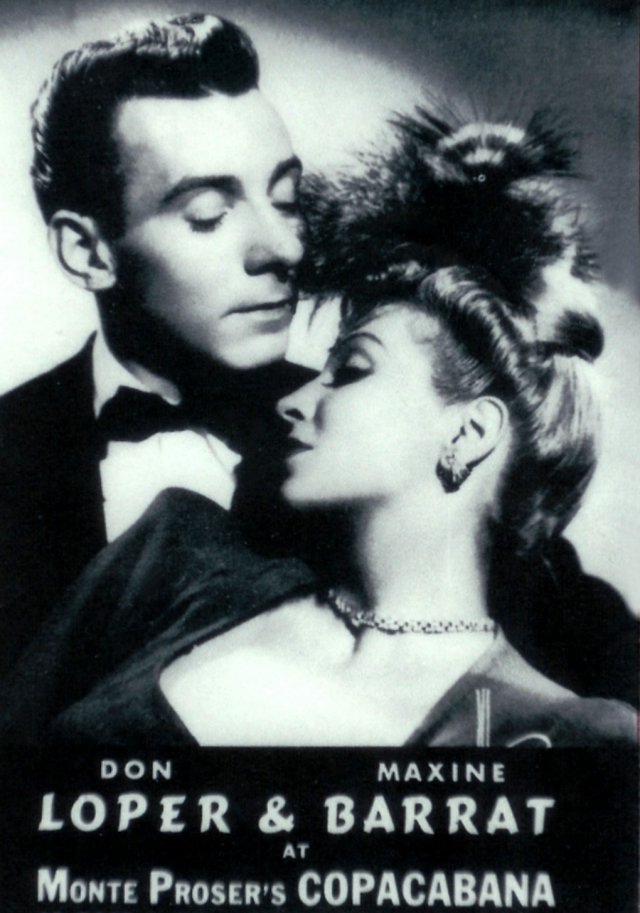 The sleek, dynamic dance team of Don Loper & Maxine Barrat brought down the house at the midnight performance at their premier engagement at the world-famous Copacabana in the fall of 1941. Their innovative integration of native Brazilian steps into their act contrasted with the typical glossy ballroom styles of other cafe performers; and, they were directly responsible for spreading the popularity of the samba in the early forties.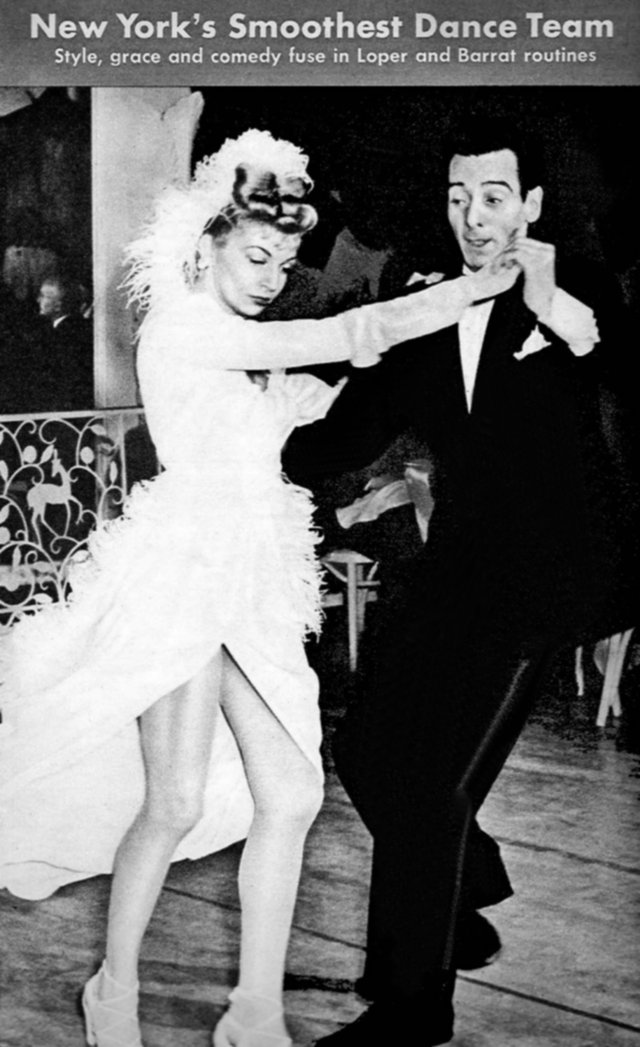 MAXINE BARRAT & DON LOPER dance at the Copacabana, New York night spot whose show Don conceived, directed and costumed. Loper & Barrat have been called successors to the Castles, pace-setting dancers of World War I days. Maxine, like Irene Castle is "Best Dressed Dancer" of her time. Don, like Vernon Castle, is that rarity, a showman with taste. His versatility stems from a background of ballet in Chicago, band leading in New York, art in Paris. (From "New York's Smoothest Dance Team," Look magazine, June 2, 1942)


THE MAXIXE was created by the Castles. Here it
is revived by their artistic heirs. Maxine often wears
this ensemble off stage.
....
POISED LIKE A VALKYRIE, Maxine..
.....wears a made-by-Loper creation with corset .....worn on the outside in full view....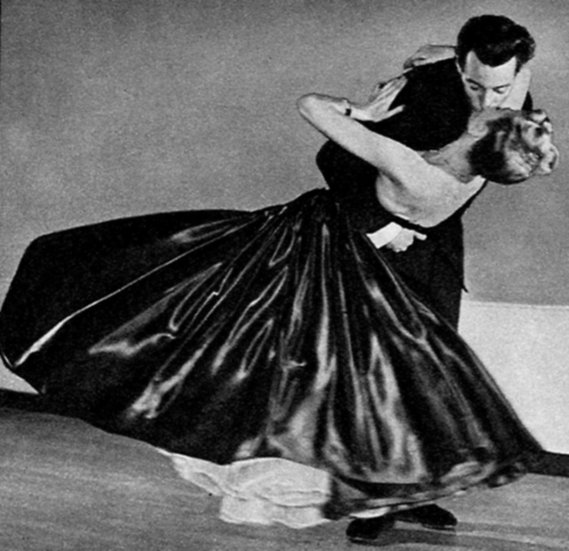 "THE KISS TRICK" is Don's offhand designation for this swooning moment in a Loper and Barrat waltz. Don, who resembles Danny Kaye in appearance and brittle wit, likes to alternate romanticism and dead-pan detachment.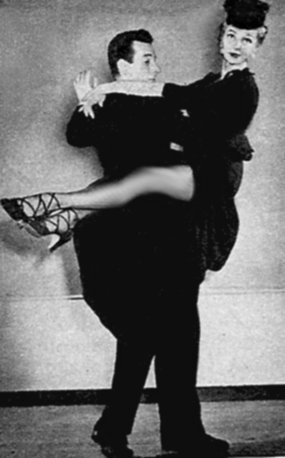 LOPER DESIGNS all Maxine's clothes - professional and private life. Slim, slit skirt, ballet-laced high-heel slippers are Loper hallmarks.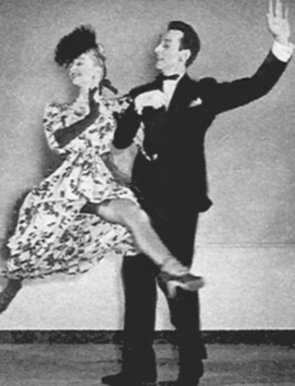 DON'S NONCHALANCE is deceptive - he loses three pounds a performance, regains them by drinking quarts of water daily. Each step is rehearsed 20 hours.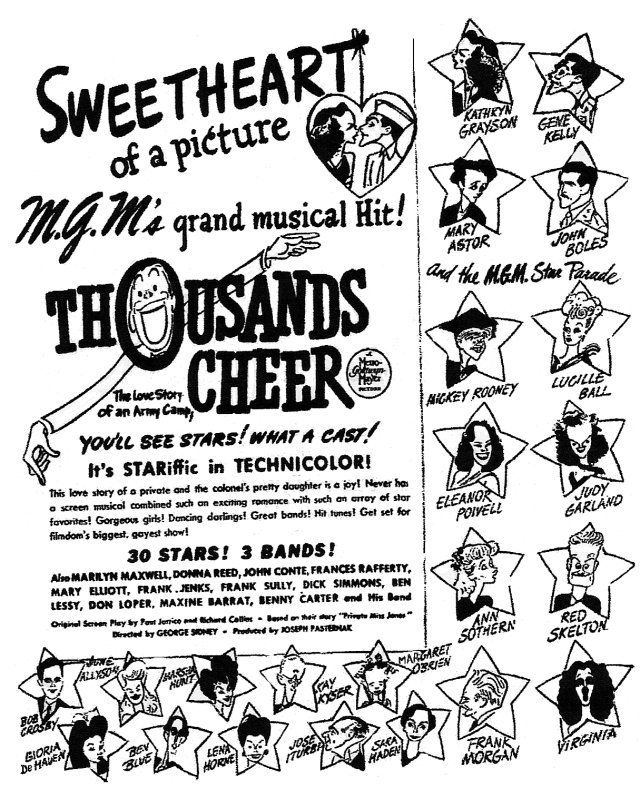 Following a whirlwind year-long tour that included engagements at the world's most fashionable hotels, big theaters, posh nightclubs, and even dancing for the King of Denmark, Loper & Barrat headed for Hollywood. They made three movies, including the lavish Metro-Goldwyn-Mayer all-star cast musical, Thousands Cheer. In the film they danced a memorable "Tico Tico" from a routine they made famous based on a Brazilian song titled "Tico Tico no Fuba" that they had brought back from their stint in Rio. The scene had a full ensemble backing. After Thousands Cheer, the duo decided to split up and pursue separate interests.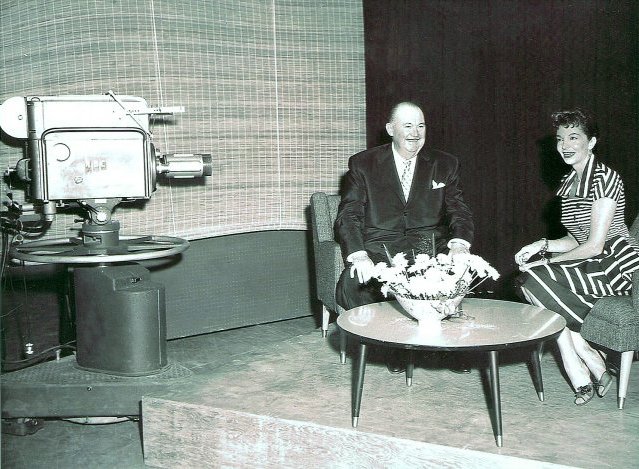 A pioneer of today's TV talk-show culture, Maxine was among the first women to host her own program, featuring guest celebrities who were the biggest stars of the day, such as Lucille Ball and Desi Arnaz, Clark Gable, Jimmy Durante, and on. Maxine is shown here with famous bandleader, Paul Whiteman, at NBC-affiliated WGBS-TV, Channel 23, in Miami, in an undated photograph.
.
.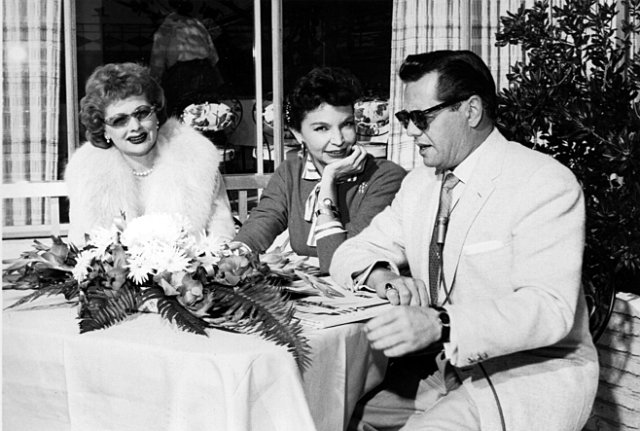 Maxine had met Lucille Ball through mutual friends Ginger and Lela Rogers; later both appeared in Thousands Cheer. Lucy & husband Desi also were guests on Maxine's New York and Miami television shows, as shown here.
..
..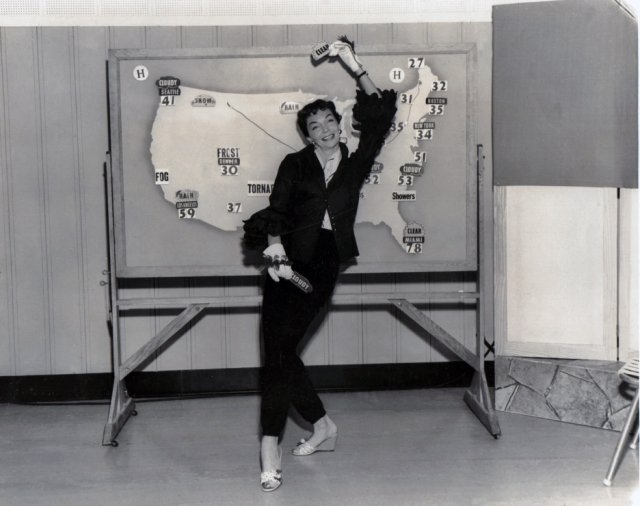 Maxine was part of the nationwide television expansion when she became Florida's first TV weather girl on WITV (ABC/DuMont, Channel 17). She subsequently hosted her own daily weather program, Weatherwise - Maxine Barrat (WGBS-TV, Channel 23, NBC in Miami).
..
..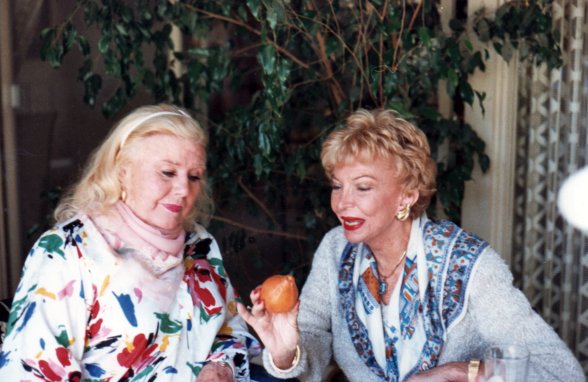 Maxine and Ginger Rogers struck up an immediate friendship when the popular dancer-movie star invited Loper & Barrat to join her at her ringside table, following the dance team's smash performance at New York's Copacabana. Ginger is seen here during one of her trips to visit Maxine, when Maxine lived in Miami and St. Thomas, U.S. Virgin Islands.
..
..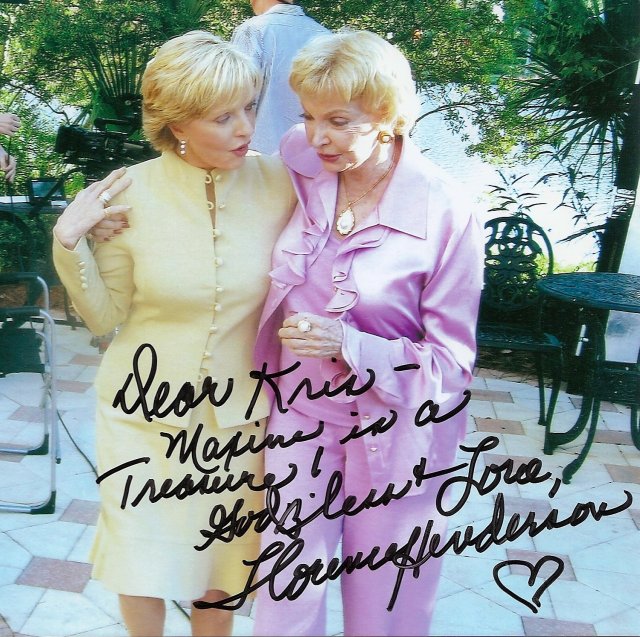 Maxine and longtime friend Florence Henderson on the set of the documentary, The Maxine Barrat Story: From Chocolate Bars to Caviar (2007)
..
..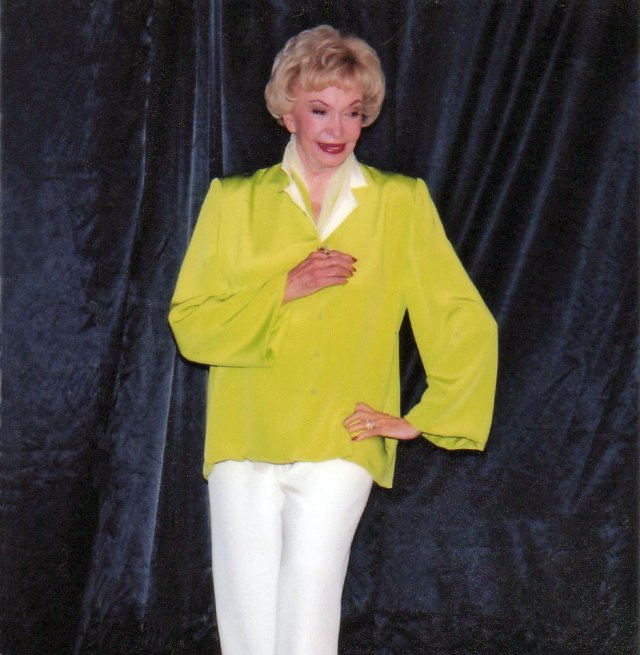 Nonagenarian Maxine has had the world's longest career as a fashion model - and is still going strong!
..
..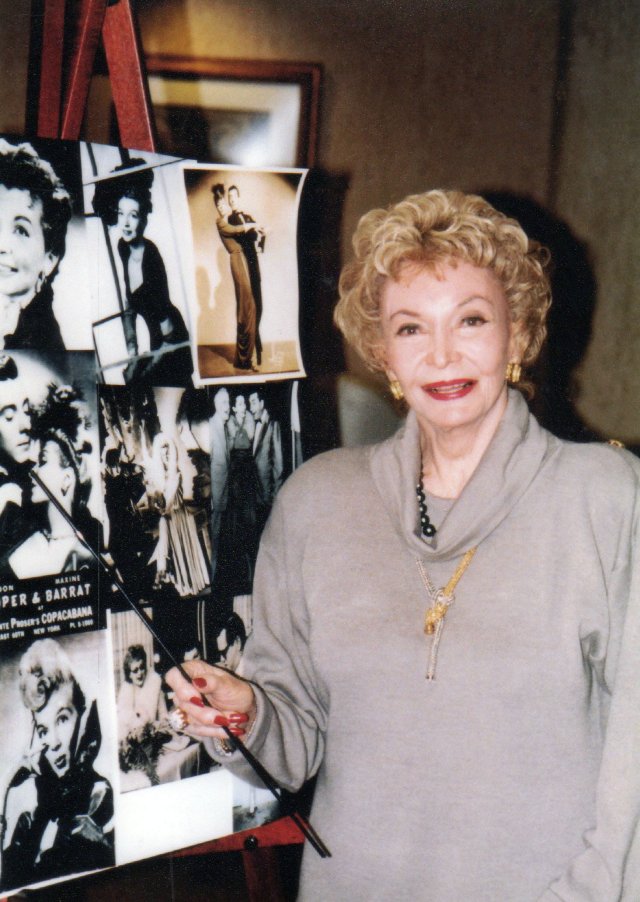 Maxine continues to enjoy SRO audiences for her own presentation, "From Chocolate Bars to Caviar," about her life and career as a fashion model, dancer and television personality.
.
..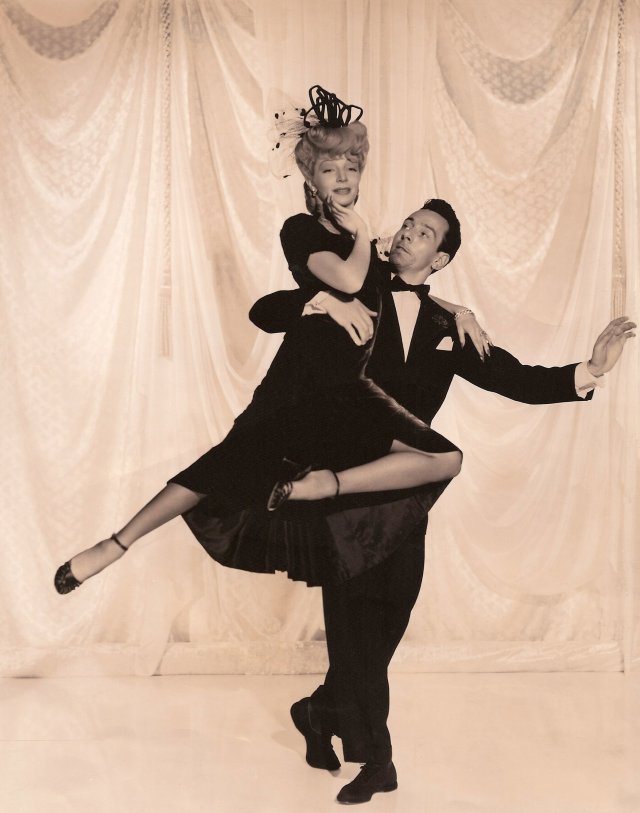 .
Click here to view an excerpt from the documentary of Maxine's inspirational career, The Maxine Barrat Story: From Chocolate Bars to Caviar (2007), made with assistance from longtime friend Florence Henderson. The background music is Jerome Kern/Oscar Hammerstein III's "All the Things You Are" to which Loper & Barrat danced in the Broadway show Very Warm for May and the spectacular stage show at Radio City Music Hall. The film within the film is a clip from Thousands Cheer (1943), with Loper and Barrat's well-known performance, "Tico Tico," their signature song.